Lift Repairs
VRSEPL pride itself on straight forward and friendly approach combined to lift installation and service with innovation and excellent customer service. Our wide range of repair packages also provides solutions which are simple, quick and easy to keep your lift in service.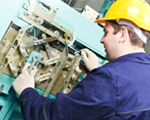 VRS Elevators Pvt. Ltd. provides any make lift maintenance and service for residential and commercial. If you are a customer and are looking for service or repairs on your elevator, we would be more than happy to help you. We offer a variety of service plans ranging from non-comprehensive to comprehensive, spares and labour included.
Please feel to contact us +91 22 32221995/ 9321121996 to discuss a maintenance plan tailored specifically as per your needs.
For a free lift repair(lift machine repair, doors repair, cabin repair, control panel repairing, switches change, buttons change and repairing, all electrical and mechanical replacement, civil work required in elevator, all types of repair and change) quote please get in touch.
If you are in need of a lift repair service that keeps you and your needs in mind; and making your call a priority then look no further then VRSEPL Services. Call us on +91 9320021995/ 9321121996 for a fast response to your lift repair needs.