Hospital Elevators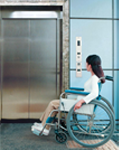 We manufacture a supreme quality Elevators for medical purpose which is generally used in hospitals as the name suggests and is popular due to its spacious nature and size. It is specially designed to handle stretchers and wheel chairs. It is also jerk and shock free to provide smooth transit to people or patients.
Hospital Elevator is not only used for common purpose of transportation also vertical transport equipment used in hospital and other relevant places to move patients and surgical instruments. VRS Elevators offers Hospital elevator in Auto Door and Manual door operation from Mumbai, India.
Special Features:
Geared Traction Machine
Gearless Traction Machine
VVVF Drive
Regenerative Drive
Auto Rescue Device brings the Passengers to the nearest landing in case of power failure.
The Down Collective / Full Collective Control System
The overload indicator in the Elevator warns the passenger in case the lift has been overloaded.
Elevator is fitted with Flat Panel LED lights in the Cabin, Modern Push Buttons, and Scrolling Dot Matrix LED indicator for Direction, Seven Segment Position Indicators.
Layout Drawing: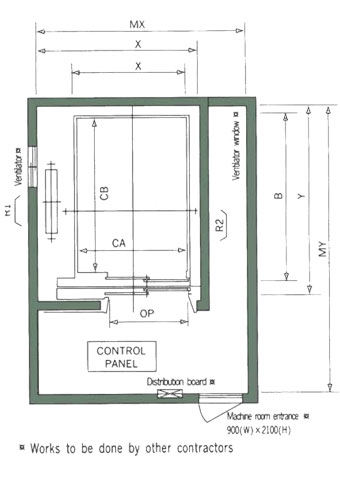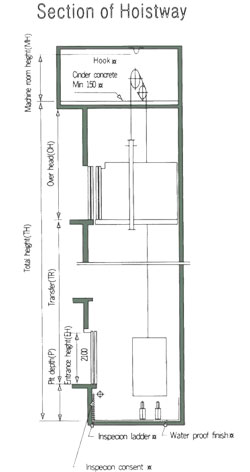 Technical Specification:
Note: Installation of ventilation and duct system are required due to heat generation in machine room.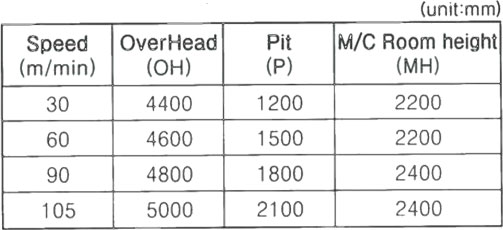 Standard Dimensions & Reactions
| Speed(m/min) | OverHead(OH) | Pit(p) | M/C Room height (MH) |
| --- | --- | --- | --- |
| 30 | 4400 | 1200 | 2200 |
| 60 | 4600 | 1500 | 2200 |
| 90 | 4800 | 1800 | 2400 |
| 105 | 5000 | 2100 | 2400 |
Type
Model
Speed
(m/min)
Clear opening
CAR
Internal
CAR
EXternal
Hoistway
Machine Room
Machine Room Reaction(kg)
R1
R2
Standard
B750-2S
30
1100
1300*2300
1360*2530
2050*2850
2300*3500
5790
3450
B750-2S
60
5900
3750
B1000-2S
30
1200
1500*2500
1560*2730
2300*3050
2750*4000
6500
3700
B1000-2S
60
6800
4100
Transfix
B750-2SD
30
1100
1300*2300
1360*2700
2050*3100
2300*3500
5790
3450
B750-2SD
60
5900
3700
B1000-2SD
60
1200
1500*2500
1560*2900
2400*3300
2750*4000
9300
3700
B1000-2SD
60
9500
4100