Lift Modernization
Elevator modernization (or lift modernisation) is the process of upgrading the critical parts of the elevator in order for it to be able to handle new technology, have better performance, improve safety, and even give the aesthetics an up-to-date appeal.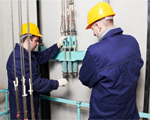 Modernizing your equipment saves money and increases your property value. New superior components will ease pedestrian traffic flow in your building, improve energy efficiency and ensure your equipment is safety and code compliant.
We provide a full Elevator Modernization design package to improve the reliability and efficiency of your lift equipment.
No matter the make, model, manufacturer or age of your elevator, our knowledgeable experts come prepared with our Performance Packages, a tried-and-true solution for your unique problem.
When modernizing a lift we are referring to replacing lift components or lift equipment (all types of lift, old to new doors, cabin, control system, complete upgradtion, any brand or any make), we are upgrading the lift.