Escalators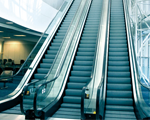 VRSEPL specialize in design, manufacture, sales, installation and maintenance of Escalators, Autowalk and Travelators, Office Escalators, Electronic Escalators, Passenger Conveyor Escalators, Shopping mall Escalators these are mostly used in Shopping Malls, Restaurants, Big Complex Lobby area, Metro Stations, Airports etc, mostly these are installed for Indoor applications but can be customized for Outdoor applications too.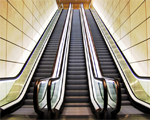 We are one of the most prominent manufacturers and Supplier of Escalator. The device consists of a motor-driven chain of individual, linked steps that move up or down on tracks, allowing the step treads to remain horizontal. Our escalators are available in varying capacities and speeds and can be customized for our clients at their discretion.
VRSEPL Commercial Escalator are made in compliance with the highest quality standards & appropriately designed to suit the specific customer requirements. Our escalators unique & aesthetic look with customized concept design enhances the overall look of the installed place & the building design.
Technical Specification
| MODEL | A | B | C | D | E |
| --- | --- | --- | --- | --- | --- |
| VRS30-600 | 600 | 838 | 1140 | 1200 | 18500 |
| VRS30-800 | 800 | 1038 | 1340 | 1400 | 16900 |
| VRS30-1000 | 1000 | 1238 | 1540 | 1600 | 15700 |
MODEL
VRS30-600(4500People/hour)
VRS35-800(6750People/hour)
VRS35-1000(9000People/hour)
Transport Size
Tavelling Height(mm)
Net Height (KN)
R1
R2
Motor Power(KN)
Net Height (KN)
R1
R2
Motor Power(KN)
Net Height (KN)
R1
R2
Motor Power(KN)
H
I
3000
54
43
39
5.5
56
49
44
5.5
60
56
50
5.5
2850
10180
3500
57
46
41
5.5
60
52
47
5.5
64
60
53
5.5
2890
11030
4000
60
49
41
5.5
63
56
50
5.5
67
64
57
7.5
2920
11890
4500
64
52
46
5.5
66
59
53
7.5
71
67
60
7.5
2940
12750
5000
67
54
49
5.5
70
62
56
7.5
74
71
64
11
2970
13610
5500
70
57
51
7.5
73
65
59
8
82
77
69
11
2980
14470
6000
73
60
54
7.5
76
69
61
11
85
81
72
11
3000
15330